Shelton Sounds
Senior Derrick Shelton finds his passion in music.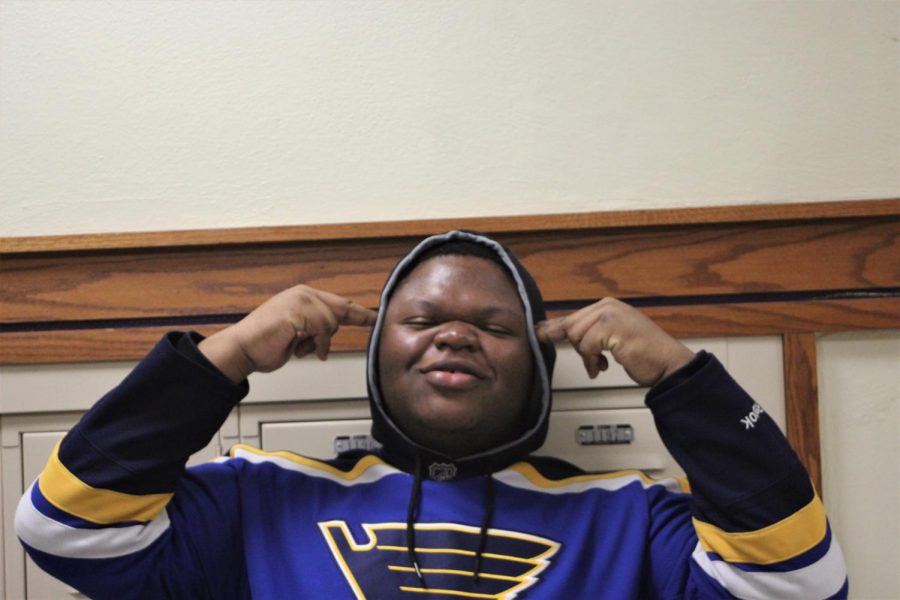 Ben Cohen and Omar Huesca
January 26, 2018
If you've ever been through the doors of Darkroom Records, there's a good chance you've been in the company of Derrick Shelton. Sitting in a chair in the corner, in front of an impressive array of speakers and multiple monitors, the young producer, a Senior here at Hickman, was probably producing some fuego, which here means heat, or just really good, beats.
Shelton has been producing backing tracks in some of his favorite genres, like trap and EDM, since 6th grade, when he was inspired to start making music.
"I was good at beatboxing, so I wanted to put those beats down into real beats."
Shelton has been known for his beatboxing talent for a long time, his impressive array of sounds ranges from the bark of dog to video game sound effects that are surprisingly realistic. His tool of choice in the making of his beats is FL Studio, originally known as Fruity Loops, a musical production suite that is favoured by most producers like Shelton for its huge variety and flavours of sounds, (hundreds of free samples come with the software, and it has countless packs of sounds that can be downloaded from the web).
His hard work landed him into the january edition of vox magazine 2016, where they interviewed frequent Darkroom visitors like Brett Wilson and Derrick, as well as Darkroom manager Mr. Aulgur.
Despite the fact that his work is well supported among students, none of Sheltons's completed work can be listened to. That is, until the release of his current project, a tape featuring his own beats, and vocals done by him as well. The tape will be released hopefully by next year. Unlike the majority of Hip Hop artists, Shelton prefers to work by himself on his projects, telling us that one of his few collaborations was with a New York producer who helped him learn the inner workings of FL Studio, and made him a better producer. Any good artist has an idol who he tries to emulate. For Shelton,this is famous EDM artist Getter, known for grating, energetic Dubstep and Dance music.
When Derrick has an idea for a melody or song he immediately plans out the layers and particular tracks, and then jumps headfirst into the beatboxing. He often starts with piano or synthesizer, then moves on to lay down bass and drum patterns, finishing with vox and a clean topper. This style of production is commonplace in the Dance music world, and can lead to infinite iterations of music stemming from one single idea or sample, and the EDM movement, along with the availability of high-quality recording software, like garageband which comes standard on new Apple computers, has made the production of professional-grade beats easy and affordable.
An up-and-coming producer, Shelton serves us as a reminder that music is still evolving and changing, and keeping us on our toes. Expect to hear more of Shelton in the next few years, and keep an eye open for his upcoming tape.