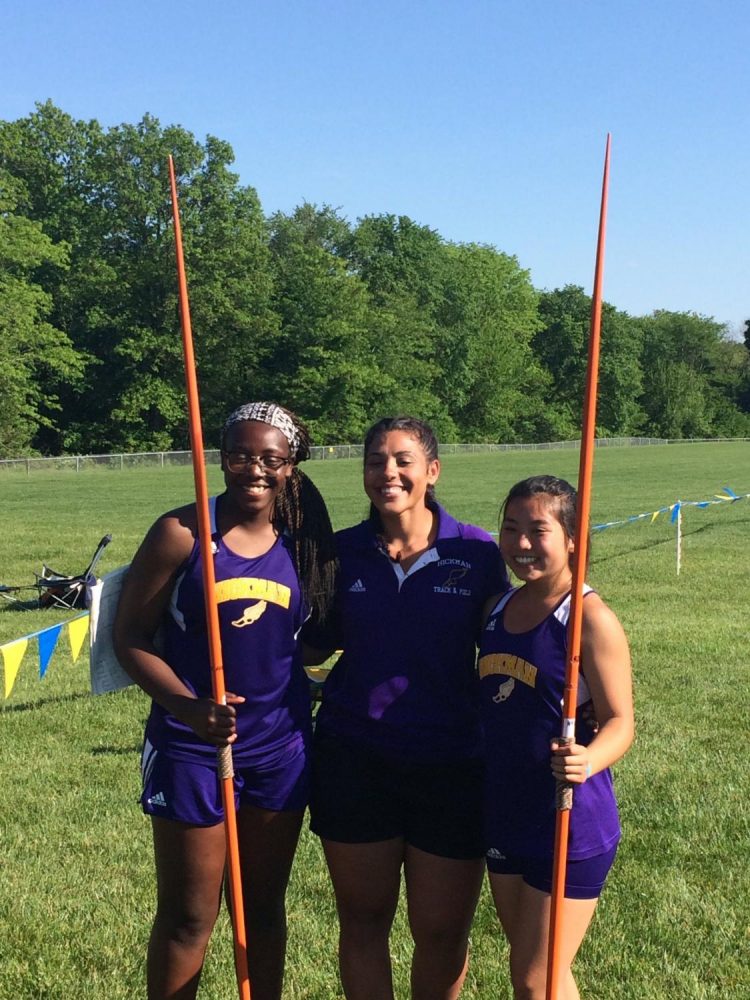 Down in the back of the stadium, behind the track, and usually behind the stands, you can find the hidden world of the throwers. The area is packed with people and the throwing circle is surrounded by an open net which cuts each thrower into little squares, separating them from the crowd. To one side coaches stand with clipboards filled with PR's, or personal records.
This school year is the first time the javelin field event is being scored. The event has been being tested out for the past few years and now kids have a shot at personal records, long standing school records and for sophomore Eryka Wanyonyi, even a district title.
"I was ranked number one in the district going in," Wanyonyi said. "We threw and one of the girls threw really far and when I threw I was only an inch away from losing. My coach asked if I really wanted to lose district champs by an inch, so i really tried and I threw two feet farther than her so that I could win."
Hickman throwing coach Courtney Gonzales has watched the javelin throwers grow this season believes the team is ready to take down the competition.
"I have eight throwers and five of them made it through to sectionals," Gonzales said. "Three out of those five are javelin throwers. They're looking good and they have a good chance at making it to state this year."
There's more to javelin than brute strength and loud grunting-although those things may help some throwers.
"There's a lot, alot, of technique involved," Gonzales said. "You can be a small thrower and throw really far so you really have to focus on mastering your craft. We do a lot of specialized training, we're not running all the time obviously, but we do a lot of weight lifting."
Sophomore Julia Quan is an example of that. With a smaller build, she didn't think she could throw far, yet she made it to sectionals alongside Wanyonyi.
"Now it's just me and Julia and we're really good friends, we help each other a lot," Wanyonyi said. "We don't really have a specific javelin coach so coach Gonzales has taught us, but she kind of wants us to teach ourselves."
Wanyonyi and Quan help each other in order to get better each meet and their teamwork has helped them beat out the other throwers and make it to the top.
"We help each other and critique each other," Wanyonyi said. "We aren't afraid to be brutally honest, like 'hey you're doing this wrong,' and we watch videos and we encourage each other a lot. She made it to sectionals with a ten foot PR, like I was just as happy for her."  
Of the others on the throwing team, freshmen Karly Parcell and Zaida Williams qualified for discus, junior Decin Kottwitz qualified in javelin. This year has shown a lot of improvement for the team as a whole inside and out of meets.
"I feel like they understand what I'm talking about more in their technique," Gonzales said. "They've just studied the technique more so they understand when I say certain terms they really get it. My favorite part is just watching kids do things they didn't think they could do. Just seeing them get outside their comfort zone and do good things is worth it."