Sounds of the Summer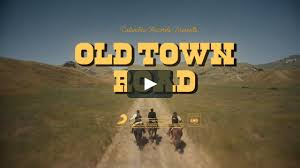 Hang on for a minute...we're trying to find some more stories you might like.
Smash hit songs may come and go, but good music is never hard to find
Sam Wills | Reporter
Lil Nas X's Old Town Road has finally been dethroned from the top of the charts. According to Billboard, "the song's record-setting run at No. 1 — 19 weeks at the summit, three more than any other song in the Hot 100's history — has been snapped, slipping to No. 3." The fact that this wildly popular "song of the summer" fell from the top of the charts just as school began seems almost symbolic, as if life is telling us to move on from relaxing by the pool, vacationing, or hanging with friends, and get ready once again for rigorous learning. Although other songs released earlier this year may not be able to match Old Town Road's virality, keen music listener and English teacher Jonathon McFarland indicated that many other less mainstream tracks can more than match up in quality. McFarland said he found himself listening to a lot of jazz and R&B over the summer, and when asked why these two particular genres got a lot of play, McFarland simply said "in the end it was what made him happy." 
McFarland singled out Chicago native Jamila Woods' track Eartha by saying it "sounds really fun and upbeat, [and] also has really thought-provoking lyrics." The song pays tribute to jazz and blues great Eartha Kitt by sampling a portion of an interview with her about power dynamics in relationships. In regards to the song's summer appeal, McFarland stated that "it fit anywhere" and he "could put it on anytime whether I wanted to pay attention to the lyrics or not … it's got great grooves, it's got great beats, great melodies, and great hooks." 
Moving on to his affinity for jazz music, McFarland said that, "so much good jazz is coming out of the U.K. right now … if you just look for this compilation called We Out Here, a lot of the great ones are really featured on that." This included his personal favorite, Kokoroko and their song Uman. McFarland said that the song was just "real summery music … afrobeat music is just danceable, bright, happy, and fun." 
So as the school year kicks off and the world waits in limbo for the next big smash hit, consider asking someone around Hickman about the tunes they've had on repeat- You're sure to find some hidden gems to add to your next seasonal playlist.