Easy Money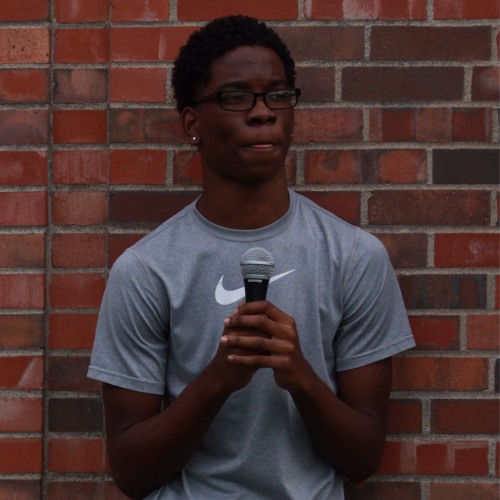 If you were at Hickman last year, then "I Got The Juice" is probably a familiar phrase, and Easy Money, the rapper behind the popular song, wasn't surprised by its success.
"I recorded it, and it sounded perfect. Just how I wanted it to sound," he said on the subject of his hit song. Shawn Pruitt wrote "I Got the Juice" on a day he had a recording session with Darkroom, in the class of former HHS teacher Ms. Noltie.
"I was supposed to write an essay. Instead, I was sitting there writing rhymes and writing a whole song, and it came together in class," Pruitt said.
Pruitt, AKA Easy Money, has been making music since he was 10. Back then, he had only been making beats and freestyling, not recording. His brother, who was in high school at the time, had his own facility for recording. One day, his brother asked to do a feature, they did, and "it sounded great", as Pruitt says.
Ever since then, Pruitt has loved making music.
"As I've grown, I've started to write and have become, in my eyes, a musical genius due to the stuff I talk about," Pruitt said.
He makes his own beats using software like FL Studio and Darkroom Record's professional production equipment.
"It's a good process; takes a good hour, maybe two, or a few days depending on how good you want the beat to be." He also added that "it's a fun process."
On the subject of student music, Mr. Koffman and Mr. Gragnani both said "student music is a positive thing here at Hickman. Visual arts, performing arts, and being involved in different clubs.
Around town, Pruitt promotes himself by going to and performing at every show that goes on around the Midwestern area; shows in Booneville, St. Louis, Kansas City, and Columbia. In Hickman, however, he tries to get on every single assembly, and every single event that Dark Room hosts.
"Every show [Dark Room] has coming up, they always ask me to be apart of it, because they know I can get the crowd hyped up and having a great time," Pruitt said.
When asked about who puts together the assemblies, Koffman told us that "He wanted to perform at our homecoming assembly, but we didn't get him on the list of kids that could participate or perform in that one. Student government puts together all the assemblies, they kind of organize them.. I helped put Shawn in touch with the student government to allow him to perform."
Pruitt told us that he plans on getting out of Columbia next year, and he wants to sign a deal with a record label.
"Now I'm at the age where I can do everything, I know what I'm doing. I have the work ethic and I'm dedicated to do it."
Easy Money wanted to write a song that made everyone hype, and he definitely succeeded. "I Got The Juice" is going to be a song that students and staff at Hickman will never forget.