Breaking Traditions: Gender Norms
Gender norms have changed drastically throughout Hickman's History. When our school was built nearly 100 years ago, women were required to wear dresses or skirts to school. They were treated as the "gentler" sex, and expected to keep in their place, preparing for futures as secretaries, schoolteachers, and, eventually, wives. There was even an all male teacher smoking lounge, located where the radio room now stands.
Decades later, after multiple waves of feminism, much has changed in the school system. Hickman's very lenient dress code allows anyone to wear (almost) anything they like. Women and men are equally likely to attend college, and classes do not discriminate of the basis of sex. Our new principal, Mary Grupe, is a testament to this change. Not everything is different, of course. According to census.gov, in 2020 women earned 83 cents to every dollar earned by men, and there are still fields like finance and construction that are extremely male dominated and hostile to women. 
A new kind of discussion about gender has arisen in recent years, one that sparks as much controversy as women's rights did in the late 1800s. More and more students have begun to express their gender identity as different from what they were assigned at birth. These students may identify as female when assigned male at birth, and vice versa. Many also identify as nonbinary, meaning that they do not experience gender within the gender binary. There are many other genders that people may identify as, including genderfluid (not identifying themselves as having a fixed gender), and agender (not identifying with any gender at all). Those who identify with the same gender they were assigned with at birth are called cisgender.
Each gender identity can use different pronouns. Along with the basic she/her and he/him pronouns, there is they/them, as well as combinations such as she/they and he/they. There are also many neopronouns such as ze/zir.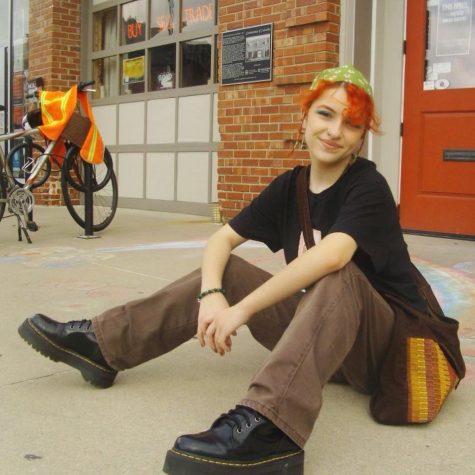 Students who are gender non-conforming can face many challenges in their day to day lives at Hickman. Leo, a junior at Hickman who uses they/them pronouns, says that the bathrooms pose a large issue. "It's very frustrating to only have two unisex bathrooms in the school, both very close to each other." With the school at its highest population this year (669 new students), getting to bathrooms that fit their gender identity during the passing period can be near impossible.
Another issue can be the misuse of pronouns. Teachers aren't supposed to ask what student's pronouns are, and this can result in frustration for gender nonconforming students. Leo wishes that there was some way to let teachers know what pronouns they prefer. "I don't think talking about pronouns in the classroom is something that we need to go out of our way to do, it should just be a normal thing to ask. If you forget someone's name, you ask. If you forget someone's pronouns, just ask."
Despite these issues, Columbia Public schools are shifting in many ways to accommodate for gender nonconforming students. For example, this year Rock Bridge High school approved the use of a $10,000 grant to create a gender-affirming closet. This closet will contain clothing and makeup that students can use if they don't feel safe using those items at home. Additionally, CPS recently updated the nondiscrimination policy to include Gender Identity.
Some Missourians have expressed concern about the new changes supporting students of different identities. In response to the creation of the closet, Missouri Congresswoman Vicki Hartzler commented "It's not the role of schools to encourage or validate gender confusion." Parents have also strongly announced their opposition to the creation of the closet, on Facebook and other platforms. 
In the face of pushback, CPS remains dedicated to supporting all students, regardless of their gender identity. In an interview with Michelle Baumstark, Columbia Public Schools Chief Communications Officer, she clarifies the district's nondiscrimination policy: "As demonstrated in our Board policies and building practices, CPS does not discriminate on the basis of race, color, religion, sex, sexual orientation, gender, gender identity, gender expression, national origin, ancestry, disability, age, or any other characteristic protected by law." 
Baumstark also explains what this means for students on a more personal level: "CPS consistently engages with students and their parents/guardians/families whenever an individual student seeks to explore their gender identity. Because each student's experience is personal to their own situation, strategies and responses vary during these conversations." As an example of this, when Leo reached out to CPS last year to get their pronouns changed in the system, faculty worked to make the transition as quick and smooth as possible.
As times change, so do the central issues facing society. There will always be people who are different, and new ideas to come to terms with. The central questions, however, remain the same: How will we support those in need, and how will we make our community safe and welcoming to everyone.
Leave a Comment