Student Music: The Adaptation
A dynamic duo talks history and hopes for the future.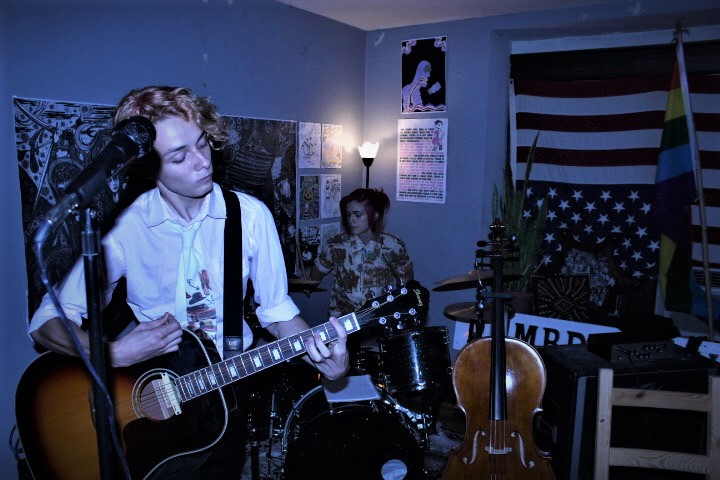 Zoie Cecil and Ben Cohen
December 1, 2017
By 6 o'clock on October 24th, Rose Music Hall in downtown Columbia was beginning to fill with musicians, their friends, and their families. The Academy of Rock showcase was just getting started. The showcase was featuring many student musicians, including The Adaption, named after a Spike Jonze film of the same name, were headlining.
Senior Annarose Overshiner and Junior Kyren Penrose have been playing music together since she was 9, and he was 8. "We've been like, been friends for a long time, but we were so small back then that all we could play was the ukulele," said Penrose. As Penrose began writing songs when he was younger, he didn't have anyone to play them with, so he recruited someone from his neighborhood, "@TerryMax100, Instagram, find him." They began to play music together, with Penrose on guitar and @TerryMax100 on drums. Their confidence grew over time. "I was like, "okay, this is gonna work," and then I recorded some stuff on the 4-track with him." By the time the group's first show rolled around, Terry had become unsure about playing the drums in front of people. Penrose told us that "Terry got so scared he literally ran away. LIke, he actually ran away. I had to pull him into the basement, and he played like… really small, and scared." Soon after Terry left, Penrose enlisted Overshiner to play the drums, which was an instrument she was unused to.
The Adaptation are a folk-punk group that play a mix of guitar heavy rockers as well as shuffling ballads, one constant being Penrose's' sharp voice cutting over the strumming of his acoustic guitar. His voice is similar to that of Gordon Gano, singer of the 80's group The Violent Femmes, (go take a listen, really very good band), which they say is one of their bigger influences.
The Lo-Fi quality of their first album, Tape #1, is refreshing to listen to with the right set of speakers, bringing to mind such groups as Guided By Voices or Pavement, whose unrefined, rough sound nevertheless is a joy to listen to.
Throughout the time the duo have been playing together, and formed the band The Adaptation they've released two singles and an album, which has been released on their Bandcamp. The Adaptation also has a significant presence in the live music scene of Columbia, with recent shows at Hitt Street Records and Cafe Berlin, the place that they played their first show. They noted that Academy of Rock, Hickman's only student music club, was very helpful when they were starting out. They told us that Academy of Rock was a good place to go when you're a rookie musician, and that "it's a good way for bands to get out there and play shows, but it's still within the safety net of your friends and teachers." Academy of Rock, along with Darkroom Records, the recording studio that is free to use for all students, are immeasurably valuable to the typical student musician.
Overshiner and Penrose draw their influences from Modest Mouse, Violent Femmes, and Magnetic Fields. The band notices that people often compare them to "White Stripes, just because we're a guy and a girl. That's like, not really our style, it's just our thing, I guess," said Overshiner. They also draw influence from 50s music, such as Chuck Berry, and Lemonheads, and they say their next album will sound like that.
They say, in the future, that they would like to be signed with a record label, and that they'd like to be able to make money off their music. Since Overshiner is a senior, and Penrose is a junior, Overshiner will be taking a gap year, increasing the time they will have to work on their music more, and to perform together. They both plan on going to Seattle, getting an apartment to record in, and moving forward with their band. However, for now, The Adaptation are a great local band, one definitely worth seeing.