Running for State
Read about the districts race that led Hickman boys' cross country to state.
It's no secret Hickman's varsity boys cross-country team has had their ups and downs this season. After tough losses at Gans Creek and Kearney, Hickman came prepared to fight for the Class 5 Districts meet. Sectionals were removed from their schedule, leaving districts the only hope of getting to State. This proved a challenge for Hickman.
Saturday morning at 5:00 am, with skies dark and crisp fall temperatures, Hickman's cross country team arrived at school, ready for the day ahead of them. Athletes quickly loaded the team bus, which pulled out of Hickman's west parking lot at 5:15 am. The team headed eastbound towards Big Driver cross country course in Washington, Missouri for their district meet. The bus was rather quiet, with most athletes taking quick naps before arriving in Washington. While some athletes slept, others listened to music, getting prepared for their races later that morning.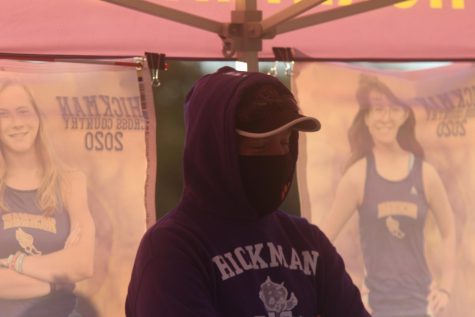 At 6:50 am, with skies still dark, Hickman's team bus arrived in Washington. Athletes filed off the bus, some visibly tired from the early wake-up call. Each athlete helped carry some of the team's equipment off the bus and across the road, into the open field at Big Driver. Coaches and their athletes worked together to set up the team tent, which had bright gold letters reading: "Columbia Hickman Cross Country."
The sun began to rise as athletes prepared for the race ahead of them. Shortly after arriving, the team walked the course. Walking the course is something done at most meets, to get the athletes familiar with the terrain they will be running. Walking the course isn't anything special, however, today was different for the kewpies. As athletes made the trek back to the team tent, little did they know, a surprise awaited them. This surprise was just the thing this team needed to raise their spirits: Coach Doll.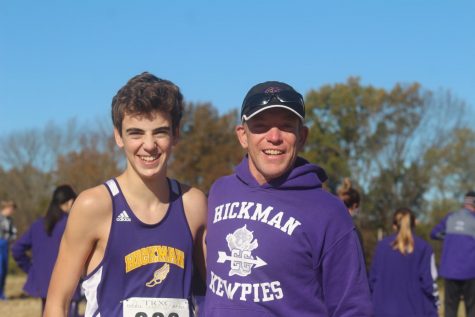 Coach Doll was the Hickman cross country coach for many years. Doll moved to Oregon this summer, which was a saddening blow to the athletes. In an earlier practice this year, the kewpies wrote letters to send to him, along with their team shirt this year. The whole team has missed his presence. Many athletes kept in touch through text, but everyone has wished that he could be here this season. One athlete texted him three weeks ago about the prospect of Doll coming to the meet. Doll responded: "Interesting enough to drive to Portland, fly to Chicago, then fly to STL, then rent a car, drive to COMO, then drive to Washington to cheer you all on?" It seems as though it was interesting enough, indeed.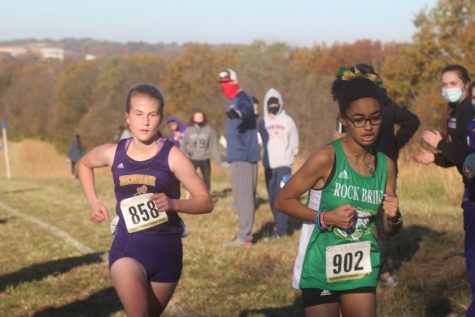 With the morning in full swing, the first race of the morning began. The girls' team ran first at 9:00 am. After the sound of the gun, the girls were off. Early on, Hickman had a few runners out front, with Peri Welch (12) starting in the top five and eventually passing Carolyn Ford of Rock Bridge to finish in third place. Elizabeth Henderson (12) had a strong race, placing eighth, and staying in the top ten. While the entire team did not score high enough to make it to state, Welch and Henderson placed in the top fifteen, granting them a spot at state
Soon after the girls' race ended, the boys' race began. Coming out quickly, Hickman was even with most of Rock Bridge's runners.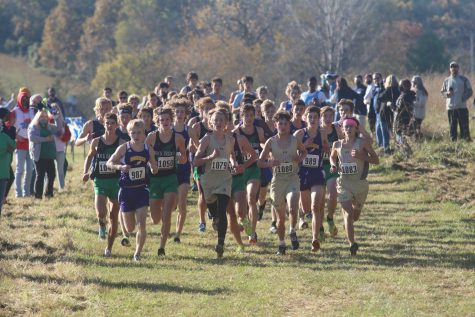 The race intensified quickly for those watching, as Hickman had four in the top fifteen at the one-mile mark. Elliot Muhlenbruck (10) turned to fellow teammate Quin O'Laughlin (10) and said: "This is actually happening, we have a real shot at making it to state!" Muhlenbruck's thought became more and more of a reality as the race went on. After the two-mile mark, Hickman still had four runners in the top fifteen. Hickman's runners were fighting Rock Bridge's runners almost neck and neck for most of the race.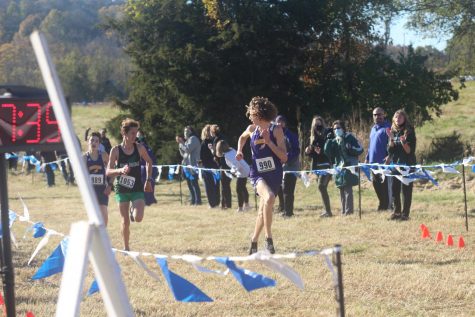 During the last mile of the race, Pierre McGarvey (9) worked his way into the top fifteen, placing fifteenth. Cale Littrell (12)  placed fifth, followed by Evan Hughes (10) in seventh. Littrell and Hughes pushed each other through the entirety of the race. Ely Yoseph (12) came in ninth after a very strong performance all race, leading Littrell and Hughes through most of the race. Hughes said: "In my mind, I truthfully believe Yoseph is the reason we're going to state. He got out fast and did very well. He turned around and made sure Cale and I were following him and very clearly leading us." Will Cherrington (11) placed eleventh, maintaining the consistency he's had all season.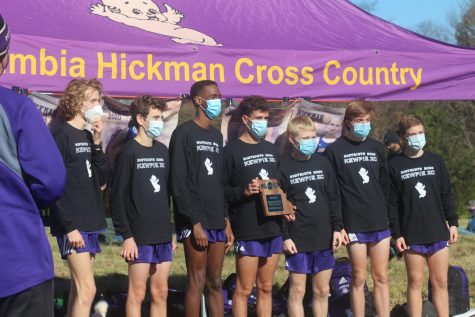 Everyone on the team ran very well. Evan Shory (12) came in eighteenth, with Sam Hall (11) coming in close behind in twenty-first. The entire team finished in the top twenty-five, establishing a strong campaign for state. For anyone watching, it was clear the Hickman boys came out strong and ready to prove themselves. The majority of the race was a sea of green and purple as Hickman and Rock Bridge fought for the Class 5 District Title. Only two teams advance to state, Rock Bridge coming in first, and Hickman second. 
As the day wrapped up, athletes who had raced got to cheer on their fellow teammates together, watching the alternates race. Hickman cross country left Washington with spirits high. The boys celebrated their run for State, and the girls were happy to celebrate their fellow teammates. Hickman looks forward to next weekend where they will race at their home course, Gans Creek in Columbia, as they run for State. Go Kewps!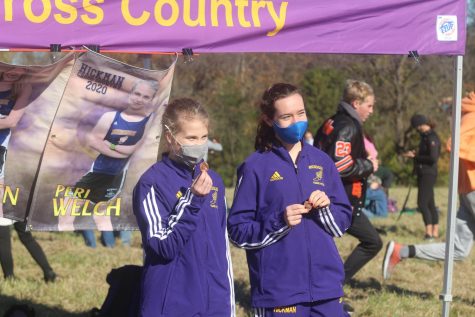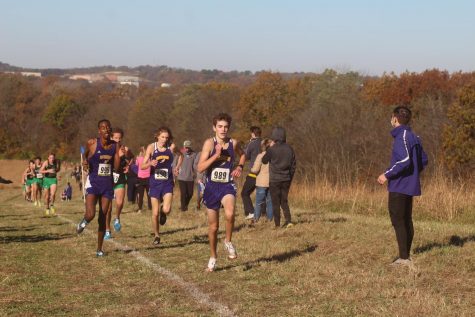 Leave a Comment