Is Halloween Canceled?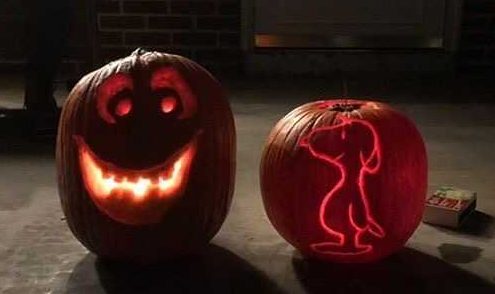 Is Halloween canceled? This has been a question on many people's minds since the beginning of the year. With little kids wanting to dress as their favorite movie star or indulge in the sweet caramel of Snickers and older folks wanting to be surrounded by friends and family to enjoy the jack o'lanterns and festive snacks, many are disappointed by the thought of missing out on this holiday. To enjoy these holiday traditions during this difficult time, many will have to take different approaches to their usual activities. 
Knowing there will have to be a different approach to Halloween and the normally not-so COVID-friendly gatherings, the CDC has released some guidelines to reduce the risk of contracting the virus. The activities they have recommended are put on a scale of moderate to high-risk. Activities such as trick-or-treating have been modified to be a low-risk activity with some adjustments to the normal arrangement. Unfortunately, gatherings such as parties and other normal Halloween get-togethers will have to be limited to few people or be suspended until the pandemic abides to create a low-risk environment. 
We asked some of the staff at Hickman High School about their Halloween plans and how they planned to stay safe. Ms. Vance from the Rise Room, alongside other teachers such as Ms. Paula, are not going to let a pandemic ruin some favorite holiday traditions, one being handing out candy. Vance says she is dressing up her new puppy in her bumblebee costume and handing out candy this Saturday. Our teachers and staff at Hickman will be taking prime precautions when taking part in this Halloween must by maintaining cleanliness and mask-wearing during the Halloween fun. They are all excited about being able to continue some sort of normalization during this uncertain time.
Students are also concerned about the risks associated with normal activities. Many students are putting plans on hold in order to stay safe with Halloween being during the pandemic. However, others are continuing with normal activities with higher precautions than normally in place.
"I was planning on going trick-or-treating but then COVID happened," said Liam Donohue (10). Students are sad about the adjustments that are having to be made but are understanding due to safety for those around them. Some Hickman students are not willing to take risks in order to be safe but others that are hoping to go out are planning to maintain safety with proper precautions. 
Halloween is a country favorite for many people and luckily there are ways of maintaining holiday traditions and favorites safely. This year will be an adjustment, but maintaining normalization is the goal many are striving to achieve. Traditions such as handing out candy, dressing up, and pumpkin carving will be maintained by many Columbia residents. There are many ways to safely have fun this Halloween in spite of the pandemic, and although there are new guidelines in place to keep everyone safe, the spookiest holiday of the year is decidedly not canceled.
Activities of moderate risk, which assume that all social distancing and other COVID 19 precautions are taken:
One-way trick-or-treating such as take-one bowls and goodie bags

Visiting pumpkin patches

Outdoor mazes and haunted houses/forests
The events above are CDC advised.
Activities considered high risk include:
Normal trick-or-treating

Haunted houses due to lots of screaming and poor ventilation 

Indoor costume parties

Hayrides with people outside of your household

Gatherings of people from outside household
Leave a Comment